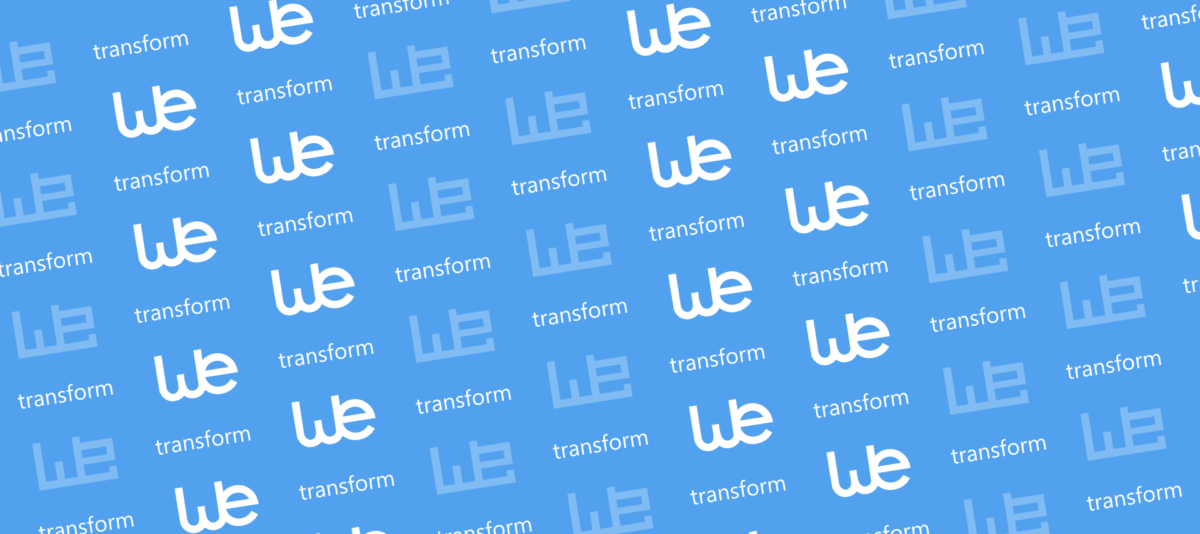 Mapping wetransform's journey so far, and the journey ahead
There's a new wetransform website in the works! (*note from future John: This is it. This is the website.)
It will contain all the functionality and style a growing company demands, created with the aid of our long-trusted partners at Fireart. If you've enjoyed the artwork on our marketing materials, you already know their work.
Why is this "new website" announcement so long? Good question, my invisible friend!
You see, wetransform has never been one to throw out the baby with the bathwater.
As my colleague Chris once aptly pointed out, we very much value substance over form. So, as our new website's form is shaping up to be decidedly more attractive, yours truly has dedicated some of his time to porting the 200+ old news articles into our new content management system to maintain the substance.
And boy, is there substance!
Wading through these articles drew a very interesting picture: A picture of wetransform through the years, through the highs and the lows, through the INSPIRE compliance checkmarks and the missed INSPIRE deadlines (if you no longer wish to miss these deadlines, check this out).
A journey that I am now going to share with you.
Things start off simple on the first of June 2014, with a short announcement that wetransform GmbH has been founded, followed swiftly by items surrounding the success of what was then merely called "HALE" being nominated for and winning several awards. All of this interspersed with news of software updates, conferences, and new projects. I suppose some things never change.
Back then, most items were kept short in favour of actually developing our tools. Well before there was a marketing department. Admittedly, said department currently exists of a grand total of two people, but I digress.
Throughout 2014 and 2015, the focus remained on developing something that delivers real value in a niche – easier said than done, since in those days almost 100% of our revenue came from service-related projects. The wetransformers at the time found that creating good product-market fit is no walk in the park, but put in the effort to come through victorious.
Fast forward to 2016: the news is joyfully chaotic with guest posts, interviews, and exciting announcements surrounding the now familiar names hale»connect and hale»studio, reaching their milestone 1.0 and 3.0 releases respectively. There are talks at FOSS4G, the Geospatial World Forum, and the INSPIRE conferences. More awards are won and wetransform joins the OGC!
Things were coming together nicely for us – we had a SaaS product that was ready to go, and a network that was helping us expand into the INSPIRE business – a development that would help shape our core business of INSPIRE implementation in the coming years. That's not to say it was all sunshine and rainbows – we needed to keep up with the growing demand and project workload, ensure that we had a strategy in place to meet our costs, and also professionalize operations further. This meant creating a new website, hiring on new people, and looking for investors. Again, easier said than done. Geodata specialists don't exactly grow on trees, not even in forest AI projects like the one we're working on.
Come 2017, the staple news items of events, awards, and software updates were still very much present.
One of the most significant events was that High-Tech Gründerfonds invested in wetransform - an accolade in itself, considering those guys invest only in the most High-Tech stuff, as their name suggests.
This is also where the "News"-section truly becomes the home of tutorials. Where 2016 only had a single one, providing instructions surrounding hale»studio mapping projects for INSPIRE, 2017 is already up to five! We also published our very first YouTube videos that year, again to show our customers how to make the most of our tools. We came to the realisation that our tools were getting pretty popular, and the more we gave our users to work with, the better their lives were. We saw a steady growth in the number of hale»studio downloads and hale»connect users.
The content trend continues in 2018, which boasts our very first Groovy week alongside a host of other helpful items. We also wrote the legendary INSPIRE IDs blog post, that has been the best performing blog post on our website for 3 years straight. It also contains the first write-up of a company offsite and interviews with our employees, mainly containing still-familiar faces!
In that year, we landed some of our biggest clients, like Komm.One – a mammoth IT service provider that has redistributed hale»connect to 900+ organisations. We scaled our operations accordingly. It was also clear that year that the chaotic nature of the start-up was stabilizing. Our revenue was growing, and we streamlined our operations in a more systematic way. The number of hats that people wore were being reduced, and responsibilities were growing more concrete.
As we move into 2019 and the 2020s, there's a clear trend emerging. wetransform has grown at a healthy rate and now we can clearly afford some style to go with our substance. And even through the pandemic, we managed to have some social meetings!
There are still release notes, event write-ups, project announcements, and tutorials aplenty, alongside an ever-increasing amount of more generally informative pieces for our communities. We know our communities, and what they need. This insight helped us realise that what they really need is a way to ensure that all the effort they put into standardizing data has some end value.
In the end, everyone wants their work to make a positive difference in the world. Allowing our customers to both make and see their impact is the direction we have been moving in for some time and hope to continue.
Now a lot of our existing business is at a mature and stable stage of operations, we're delving into even more innovation surrounding the topic of Data Spaces.
Over the years, we moved from 0 dataset hits to 150 mn dataset hits/month. We grew from 0 customers to 60+ customers. So far, we've helped over 1000+ organizations with their INSPIRE implementation. And there's only more to come.
As for the future of this blog: exciting new content is planned, including new employee interviews, insights surrounding zoning and planning permissions, and news of upcoming projects.
Now, we would like to hear from you! What type of content would you like to see featured in the future? Perhaps you yourself have a story about your history with wetransform? Want to be interviewed? Write a guest piece? Or just have a general idea you'd like for us to look into? We would love for you to reach out and share how this section can become the best that it can be!