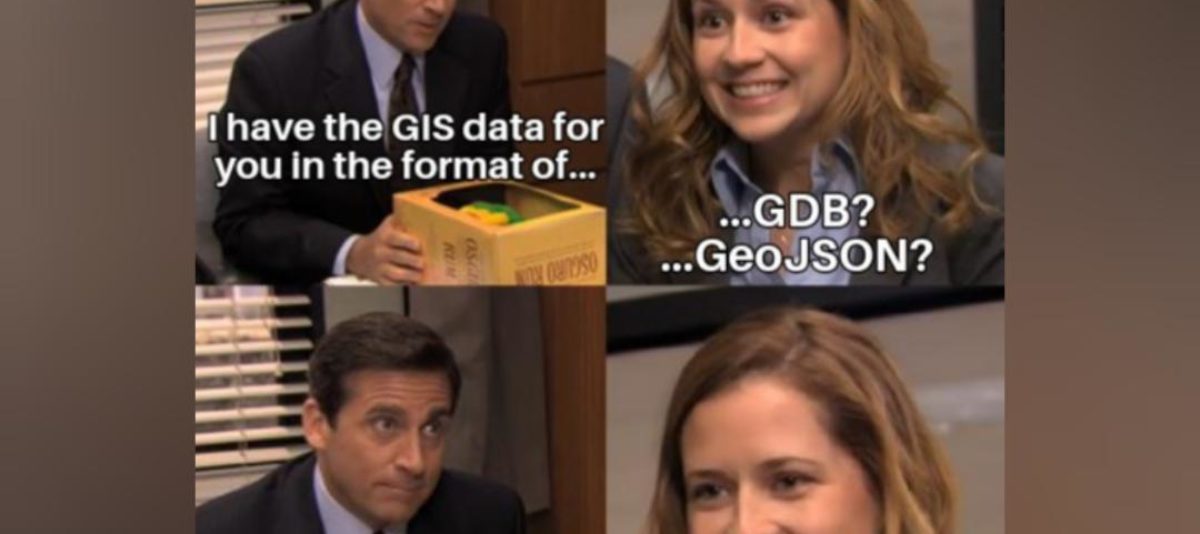 Through the GIS - A Marketer's Adventures in Geospatial Data
The advantage of being a marketer is that you do not need to have all the answers.
This comes in particularly handy when you have approximately none of them.
Having left behind previous safe havens in literature, the arts, the gaming industry, and B2B SaaS, I decided that it was high time to jump head-first into another adventure. For preference, one that would bring some good into the world.
That's how I, after more than a little cajoling on my part, wound up in the world of data standards and GIS at wetransform. Before making a formal foray into the depths of these topics, I set about to learn the basics.
I am told that "GIS" is a Geographic Information System, effectively a super layered digital map that holds vast amounts of information regarding what's going on in a particular slice of the world, provided the data is right. There's a subreddit. There are memes. I embrace the hatred of unprojected CAD files.
The standardization business is also, at its core, not that hard to understand.
Loads of people, companies, and other instances collect geospatial data. Naturally, they all structure it in their own way. This structure usually works for their personal application but, to the world at large, is a mess.
The incredibly smart people I work with have created and maintain the tools required to make sense of said mess, so other really smart people (and even some robots) can use it to make decisions. The more clean, well-structured data there is to look at, the better the odds that those decisions are the ones that'll steer our planet in the right direction. Save the data standard, save the world.
I found myself nodding sagely at terms like "INSPIRE", "XPlanung", and "CityGML". Data standards, vital to interoperability. Cool. Apparently, it's pretty difficult to become fully compliant to those standards without our help. Less cool. However, we're saving well over a thousand organisations an absolute boatload of time, cutting their processes down by about 80%! Important people now have more time to spend on other things. Super cool.
Some of these data standards even enable non-GIS users to work with the data. The interoperability that data standards provide can streamline processes for everyone involved, from government to business to citizens, which can save a lot of time, effort, and money. To the tune of 500 billion actual Euros, according to the European Commission's Joint Research Centre. Good for them!
So how do we help our clients achieve that almighty interoperability? Time for me to learn more about our tools. You know, the ones I am supposed to help get to the market.
hale»studio is an open-source tool that performs data harmonisation for geospatial data. Take your source data (I am told Shapefiles are common), select a schema (the structure it needs to go into, depending on the data standard you're aiming for), assign what goes where, run it through. Hey presto, interoperability!
hale»connect complements hale»studio by handling metadata and publishing. Compliance to INSPIRE, for example, becomes a relative walk in the park! Plenty of options to add in collaboration and workflows. Heck, after a quick intro and some setup by a more experienced colleague I found myself using it pretty effortlessly, even though I'd never touched geospatial data before.
I ask whether I can have one of my colleagues record the processes with and without our tools for marketing purposes. I am told that while the half an hour for a hale»connect/studio demo is fine, I am not allowed to give one of our finest engineers twelve hours of solid work. I just nod.
So, our tools are good. Really good. The best, in fact. I know this because I asked.
Just as I'm starting to feel confident in this new field and all its terminology, with a pretty decent handle on our tools for someone who is not and will likely never be an end-user, something else comes up. Data spaces. That sounds cool. It has "space" in it, so it must be cool. I hop into my imaginary spacecraft and find out that data spaces are, in fact, very cool.
You see, a lot of the data currently in use is so-called "open data". Does what it says on the tin. It's data, it's there, you and anyone else can use it for whatever you please. However, there is far more data out there, hidden away behind multiple layers of security because whatever it contains requires protecting. The exact location of endangered species, details regarding the population's personal health, that type of thing. The type of thing you do not want just anyone to have access to. Which is exactly why it's not open.
There is a lot more of that type of data than there is open data… and it could be extremely valuable.
"Data gaps" is the term that keeps cropping up as the issue to be solved. A lack of required data, not because it does not exist, but because there is no access to it at all. Not even a path.
So how do you solve an issue like that? Where data that is, for good reason, not being shared at all could have a huge impact on how vital, world-saving decisions are made?
You create the VIP-area known as a "data space", a members-only club with different levels of access and robust governance policies to ensure that such precious data never, ever falls into the wrong hands. You can rest assured that, for a change, you'll have complete control over what's happening with your data.
You can train AI inside the data space. Let it learn from all the data in there, then leave all that data on its way out to do some good in the real world. Inside the data space, every process is certified and every participant is vetted. A door policy to make Berghain blush.
You can find a nicely formatted slide on the process below.
Data spaces are already included in the European Data Strategy. Sectors such as Agriculture, Environment, Energy, Finance, Healthcare, Manufacturing, Mobility, and Public Authorities are all slated to use them.
While data spaces are still very new, I feel I am in the right place with the right team to learn more about them and how they will help solve very real problems. Not only do we have the tools to automatically make all data inside a data space fully interoperable and set up the governance, with the help of the International Data Spaces Association, wetransform stands at the cradle of the Environmental Data Space. We are already building a community dedicated to identifying high value use cases, defining architectures and governance models, and testing out solutions in concrete projects.
If you want to learn more about data spaces, check out this recent article, or head on over to the Environmental Data Spaces Community landing page to get involved.
Like I said before, I do not need to have all the answers. I do not know how to do your job. What I do know is that I work with incredibly smart, dedicated people who have built (and are continuing to build and maintain) solutions for the harmonisation and publication of geospatial data that, by every metric I have seen, can save you a great deal of time, effort, and money. I encourage you to have a look, perhaps even a call, to see how they can help you.
As for me, I intend to keep on learning. There is certainly enough to do.